The Gympie Karate Club Inc. (KCI) was formed in 1974.
The Academy ran under Sensei Ryo Tsujii for 3 years and was then handed over to Sensei Noel Turner.
Sensei Noel Turner was at this time also invited to train with Sensei Vince Morris, 7th Dan from England, and Patrick McCarthy, 7th Dan to keep up todate with the latest in classical and modern Karate-Do.
In 1992, Sensei Noel Turner affiliated with the Japan Karate-Do Ryobu-Kai,whose international headquarters are located in Tokyo, Japan under the directorship of Sensei Yasuhiro Konishi, 10th Dan. In 1992 sensei Noel Turner was appointed chief instructor Australia and in 2009 he was appointed to the Board of Directors Japan Karate Do Ryobu-kai. Noel Turner passed his 7th Dan testing in the USA on May the 4th 2012.
The world chief instructor of Ryobu-Kai in countries outside of Japan is Sensei Kiyoshi Yamazaki, 9th Dan. In 1997 Sensei Noel Turner decided to go it alone as chief instructor of his own style, with Sensei Kiyoshi Yamazaki. In 1999 Sensei Noel Turner was appointed chief instructor of Japan Karate-Do Ryobu-Kai Australia.
For more information, please go to the world wide site: www.jkr.com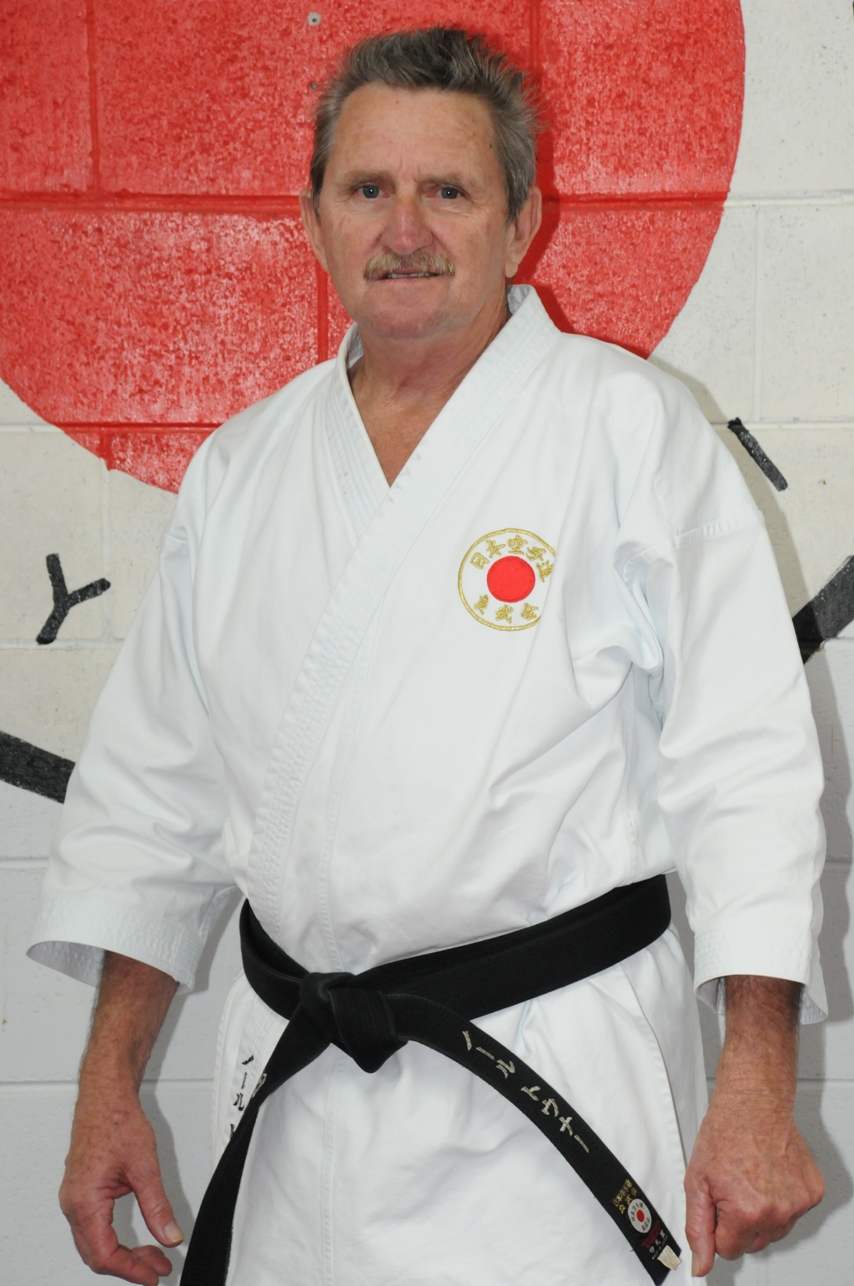 6Your Local Instructor – Noel Turner
Noel Turner began training Shotokan in 1974 and has over 48 years in the art of Karate. He has been teaching for the past 42 years. Noel is a 7th Dan Blackbelt.
Noel is a registered instructor and holds level 1 coaching credentials.
Noel is a 7th Dan Black Belt who has successfully made the change from being a top class competitor (in the Australian Karate Federation) and in open titles for Gympie for many years to an outstanding coach and teacher. He has produced State, National and World Champion.